Comment réaliser un panda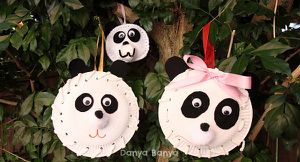 Pour faire de jolis pandas :
paper plates x 2
googly eyes x 2
black felt, cut into 2 x oval shapes for the eyes and 2 x long semi-circle (semi-oval?) shapes for the ears
large white pom pom and small black pom pom for the nose
long piece of white yarn
large blunt hand-sewing needle with a large eye
a piece of ribbon for hanging
red marker
low temperature hot glue gun (or craft glue)
single holepunch
With both plates together, hole punch evenly around the edge of the plates. Flip one of the plates over so that the bottom of both plates are on the outside. Thread the yarn onto the needle, thread through the first hole and tie off. And then ask your preschooler to thread or hand sew the two plates together around the circle.
We stuck the rest of the elements on with our low temperature mini glue gun (which I'm just a little bit in love with by the way). Even though the glue from these guns is hot if you accidentally touch it, it doesn't get hot enough to seriously burn. It is small enough for little hands, and I've let JJ help me use it a few times now (under very close supervision), and she loves the sense of empowerment that she can use such an adult tool. If you don't have a low temperature glue gun like this, you could use a traditional hot glue gun (without the kids help), or you could use craft glue (but I'm way too impatient for that…). Last but not least, we drew a mouth on each panda using red markers. And that's all there is to it!
Le détail de la fabrication est ici : http://www.danyabanya.com/paper-plate-panda